American Clippers for Sale
THESE ARE ARCHIVED LISTINGS. DO NOT CALL!
---
8/8/2011
For Sale: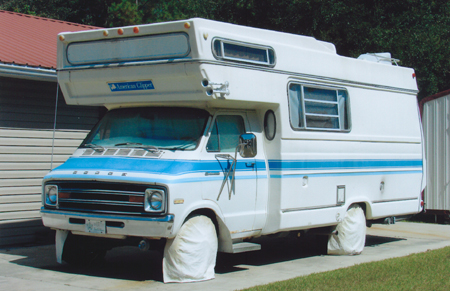 1978 American Clipper, 21
Dodge 440

81,638 Miles

Rear Kitchen 821F

Custom Matress

A/C and Heat

Gas Stove w/Oven

Dometic Large Fridge

Microwave

Nearly New Tires

Tire covers
Interior curtains and cushions recovered in blue. Some gel coat cracks and leaks from roof. Some interior paneling is water damaged. Some rust on cab hood and door.
Located in: Williston, FL
Price: $1200 OBO as is.

---
3/11/2010
For Sale:
1978 American Clipper 21, Side Kitchen
35K on Rebuilt Motor and Transmission
Well Cared For, regular maintenance
Awning
Good Tires
Steer-Safe
Rear Frame Reinforced
Drives Good! Everything works!
Retiring from the road, needs a good home where it will get used.
Located in Vallejo, CA
$4500 obo
---
9/8/2009
For Sale: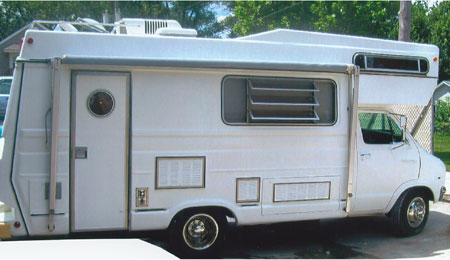 1977 American Clipper, 21
34,000 Miles, Dodge 440 runs like new. New paint inside and out. Ready for your graphics or artwork. New brakes, tires, leaf springs, air shocks, starter, alternator, plug, wires, carb and more... Passed smog test! Fly into Midway and drive home!
Located in: Willow Springs, IL
Price: $3600

---
9/8/2009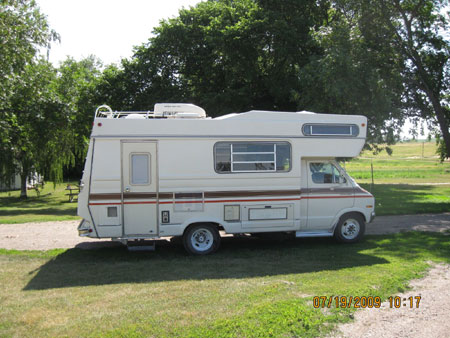 For Sale:
1977 American Clipper, 21
It has the original outside paint, and the original paneling inside. Some of the paneling has been replaced but it is a good match. We put in the dinette in place of two swivel chairs. Also has the flip sofa and overhead bed. Has leaked in the past but we've had it for 15 years and it has never leaked for us. We have kept it garaged. Just came back from a rainy 3 weeks in Canada and it was dry. The refrigerator does not work on 12 volt but does great on propane and 110. Coach AC is almost new however cab AC does not work. Tires have only about 4,000 miles on them. Real spare. She has 101,000 miles on her 440 engine.
Located in: Earlham, IA
Price: $4700

---
9/8/2009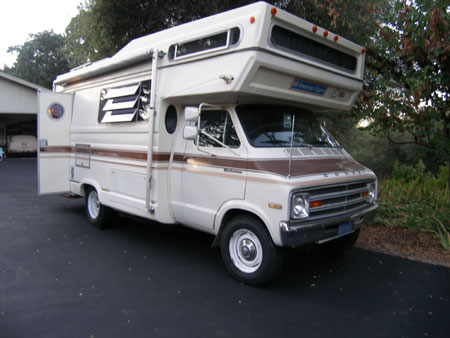 For Sale:
1978 American Clipper, 21
No Smog Required

88,000 Miles

Dodge 360

Rear Kitchen

Awning

New Tires

New Wheel Bearings
Only $2500 why? American Clippers are CLassics! But let's face it, most are 30+ years old and have lost their new car smell. All of them have leaked at one time or another, need minor tweaking and a little TLC. If you are handy (and I'm not) this can be a jewel in short order. Great for weekend getaways.

Located in: Newcastle, Ca
Price: $2500

---
9/22/2009
For Sale:

1978 American Clipper 21, Rear Kitchen
440 Engine, 65,000 miles, rebuilt Thermoquad carb
New front end, front brakes and Bilstein shocks
New tires, including spare
New radiator, water pump, t'stats, hoses, belts
New house water pump
New vent lids and fans
Onan 4KW Generator
Panasonic stereo w/4 Infinity Speakers
Everything works
Stored inside most of it's life. Want a Clipper? This is the cleanest one you'll find anywhere.

Located near Sacramento, CA
$5500 obo
---
2/11/2009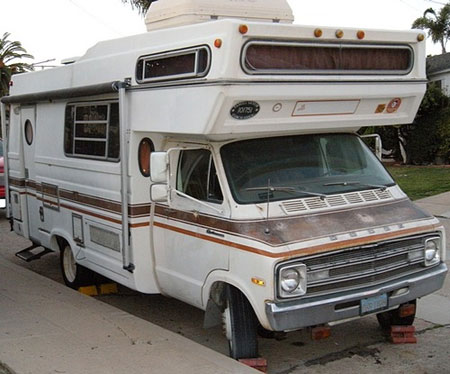 For Sale:
1978 American Clipper, 21

Dodge 440 Engine
40K Miles
All coach systems functional
Interior upgraded, Sleeps 6
New Refrigerator
Microwave
Rear Bathroom with a Shower/Tub
Exterior in Good Condition but Cab needs painting
Onan Generator
Cargo Storage on Top
Cab and interior Air Conditioning
New Brakes
New Awning
Very Clean


Located in: San Diego, CA
Price: $4990 obo

---
2/11/2009
For Sale:
1978 21' "Bunkhouse"
88K mi, Newer tires no millage.
$1500 OBO Salem, Oregon

Located in: Salem, Or
Price: $1500 obo

---
12/09/2008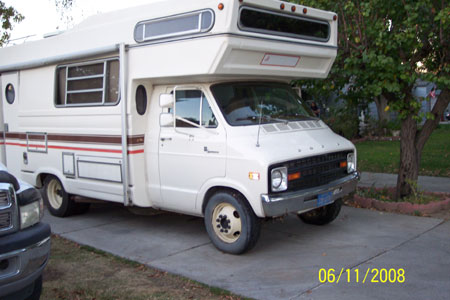 For Sale
1978 21' American Clipper

Almost completely redone - NEW: interior upholstery, flooring, front seats, toilet, brakes, wheel bearings, shocks, gas tank cleaned and relined, roof vents,
exterior lights, exhaust rebuilt transmission, motor blower, windshield motor.
Upgraded: new Desert cooler radiator, Ceramic headers, rechromed bumpers,
Needs some cosmetic work. Repainted cab. Very LOW Miles.
Located in: Fremont, Ca
Price: $4995

---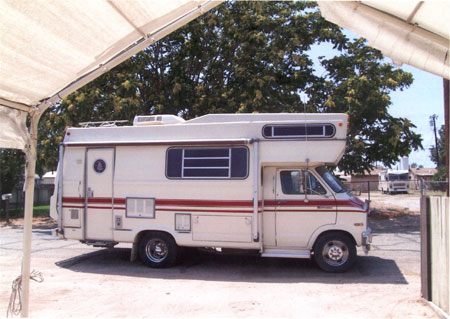 10/19/2008
For Sale
1977 21' Party Model

Dodge 440 with 98K miles

Rear Kitchen w/Microwave
Solar charger, Holley Carbs and loads of extras w/ manuals covering add-ons in binders as well as past ACOC Journals.
Previously owned by Mike and Alice Betzler w/ no children, so interior completely customized and very clean. Exterior in very good shape, may need new seals around back window one of these days. Lock down windshield privacy cover, rain proof vent covers and lots more that I don't know names of included.
Easily passed smog in 2006 but did not license as not traveling. Beauty has been well taken care of, but has spent a lot of the past 10 years sheltered in my driveway being used as a guest room.
Located in: San Bernardino, Ca
Price: $5250 OBO

---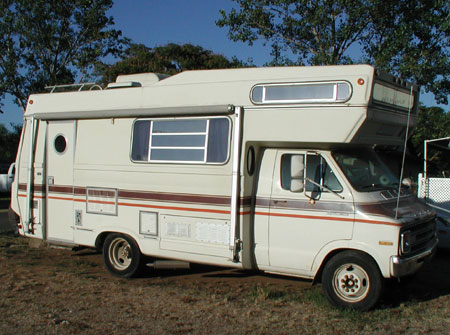 10/19/2008
For Sale
1977 21' Rear Kitchen

Dodge 440 – Duel Exhaust

61,000 Miles

All Coach Systems Functional

Interior in Good Condition

Roof Air

Exterior in Fair Condition
Contact R.J. Savage
Located in: Ramona, Ca

---
10/19/2008
For Sale
1978 21' Bunkhouse - Rare!
Dodge 440
Located in: Little Rock, Arkansas
Price: $2700

---
6/25/2007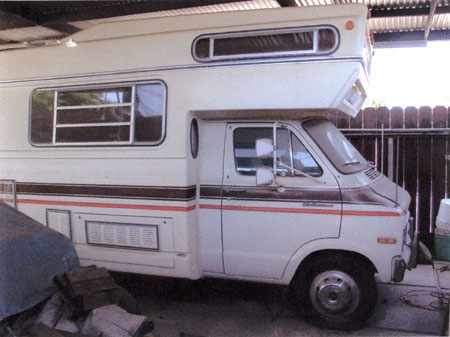 For Sale
1977 21' Rear Kitchen
Dodge 440 with 41K miles.

Coach and Roof Air Conditioning

Generac Generator

Radio & CD Player

Rear Kitchen

Rear Storage Compartment Added On
Price $5700 O.B.O

Located in Modesto, Ca.
---
12/17/2006
For Sale
1980 American Clipper 24ft - RARE!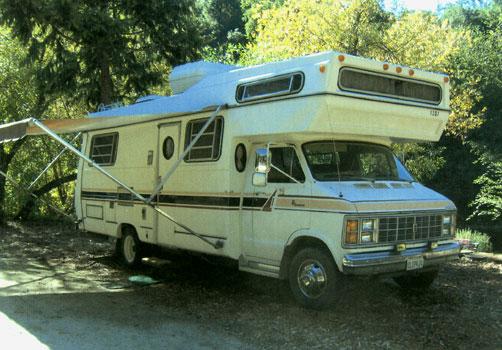 2500 Miles on Shop Performed full engine rebuild.
6000 Miles on rebuilt transmission
Reinforced rear frame
Air Shocks
Electric levelers and step
4k Onan Generator
Huge Storage Pod on roof
Triple Tow Hitch and platform on the back
Two awnings
Swivel Captain's Chairs
Excellent coach A/C and forced-air heat on thermostat
3/4 bed in back with queen bunk over cab
custom dinette/extra bunk
Parquet flooring
Wooden mini blinds
Tinted back and bathroom windows
Porcelain toilet, full shower
Easy access tank dumping controls
Radio/CD with speakers throughout
3 way Dometic refrigerator
Microwave, stove, oven and coffee pot
Custom pantry w/ pull out shelves
Dishes, glassware, silverware, pots and pans, bedding etc..
All lights and appliances in working order
All receipts and documentation, manuals and back issues of the ACOC Journal
Price Lowered! $9000 O.B.O
Located in Carmel Valley, Ca
12/14/2005
For Sale
1977 American Clipper, 21 ft Rear kitchen
Side couch and swivel chairs, 81,000 miles, Dodge 440, Automatic. In outstanding condition- regular maintenance! In Utah only one year and stored for winter time. My brother owned it for about 25 years and took care of it like it was one of his children. Only selling to get our finances in order. Has been very reliable and great fun to use for family outings.
Have current and all back issues of the Clipper Owners Club Journal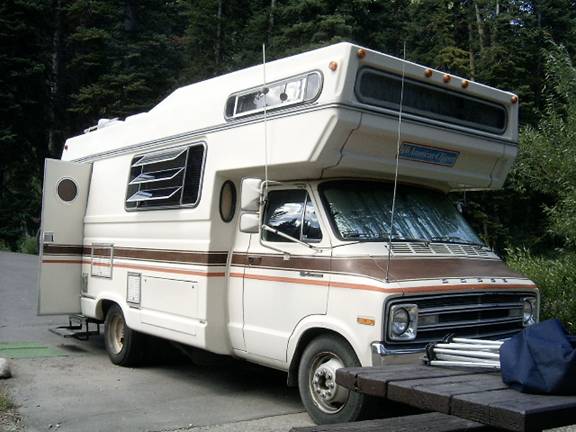 Totally current registration and emissions
New Carburetor in Aug 04
Recent tune up in 05
New Brakes and master cylinder
All new tires in Aug 04 (only about 500 miles on tires)
New Roof air conditioner in 01
Have spares for almost every part of RV (hoses, clamps, pumps, etc.)
Has Air shocks
Clean body – good paint and fiberglass
AM-FM and CB radio in dash
Dual gas tanks
Tow package with special towing hitch with small motorcycle rack
Microwave
Blinds
Electric step
Queen overhead bed and Dinette
Swivel captain chairs
Have all manuals and past Clipper Journals
LOTS of Extras!
Asking $6,900 or best offer


Located in Murray, Utah (originally in California the past 25 years)
---
12/14/2005
For Sale - Price Reduction!
1976 American Clipper on Dodge Sportsman class C chassis in excellent condition
Second owner RV; 23K on rebuilt 360 Dodge and transmission. All records, brochures, appliance manuals and miscellaneous documents from day one
No chips in glass,
Rear spotlights
Original upholstery, curtains and mini blinds
Carousel microwave
Storage Pod
Exterior Awning
Roof A/C in excellent condition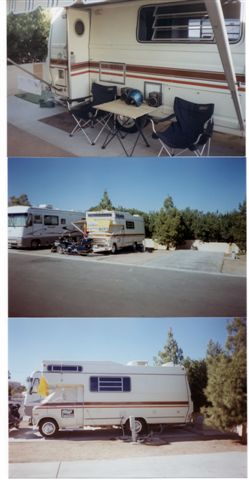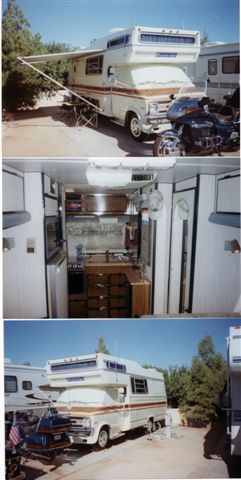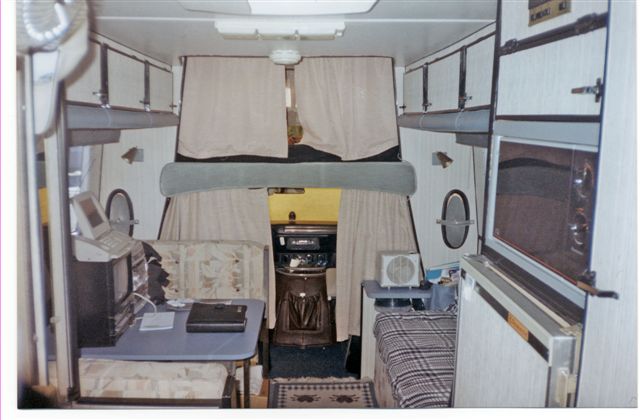 Reason for selling: Relocating
Currently in Las Vegas, Nevada
$8500 or best offer

---
11/24/2005
For Sale
1979 American Clipper, 21 ft., Dodge 440.
Rear Kitchen Party Model – Good Condition $4500.00
74,900 miles
New tires
Rebuilt engine and Carb. In 2003
New Thetford toilet 2004
New engine Battery 2004
Full tune up 2004
New dual exhaust 2004
New house battery 2004
Automatic Transmission
Set for towing
Passed smog, March 2004.
Has an ONAN generator, I never tried to work on it, won't start as is, needs filter cleaned?
ACOC Member
Everything works

Water pump (all faucets and toilet)
Water heater
Thermostat controlled heater
2-way original fridge
engine starts easily
I bought this Clipper in 2004, and have used it for the occasional party trip, football game, and down to Baja Mexico with no problems for over a year. Proven track and camping record, we take it down 3 hours drive to Baja often. We are moving, so I have to sell it. All ready to go, dinner ware, pots and pans and service for 4 included along with some basic tools.
Located---San Diego, CA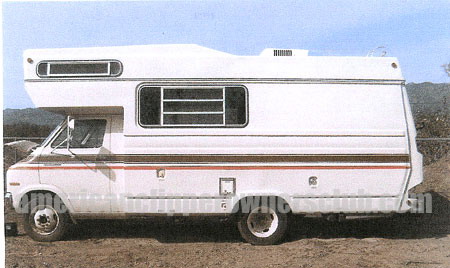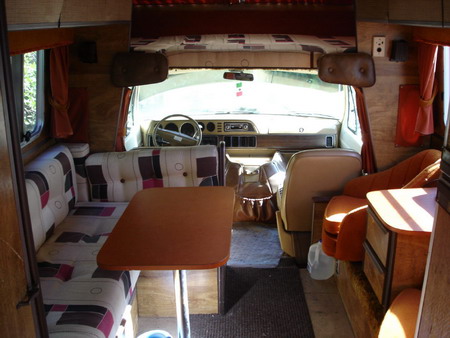 ---
10/15/2005
For Sale - Price Reduction!
1976 American Clipper, 21 ft., Dodge 440 - $9000.00 OBO
Great mechanical condition - starts easily after sitting
50,800 miles on Dodge 440 engine
Stored in garage for 14 years by previous owner
Good tires
New front and rear bumpers
Storage pod
Roof A/C and Dash A/C both work great
No chips in glass
Interior carpet ~5 years old
New kitchen faucet with re-worked plumbing
New vinyl tile in bathroom
No roof leaks
Original Clipper interior with good curtains
No oil leaks
All factory and ACOC Newsletter back issues.
Reason for selling: purchased new camper.
Click on thumbnails for larger image
---
---
---
Removed 9/30/05 per email from new owner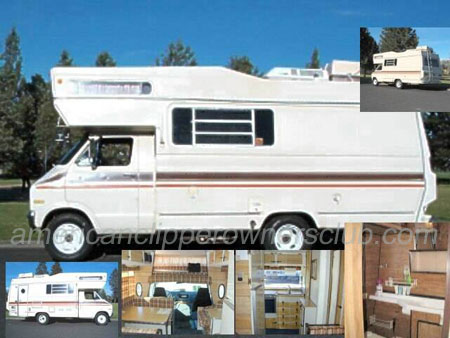 6/10/05
For Sale
1975 American Clipper , 21' Great Camping fishin' and huntin' rig! Powered by a Dodge 360, 79,526 miles, New Automatic transmission .interior remodeled, Sleeps 4 people: Overhead bed and dinette bed. Amenities include Rear Kitchen 3 way refrigerator,4 burner stove, oven, Microwave, dual stainless steel sink, roof A/C air,gas furn. Full Bathroom ,shower, toilet, sink, Kenwood Am/Fm Cass. Stereo, roof rack, ladder roof storage pod and near new tires all 6. Very good shape, 22 more photo's at my yahoo website http://pg.photos.yahoo.com/ph/lj10863/my_photos
$4,795.00 or trade for 90 or newer Toyota 4x4 Xtra-Cab Truck
Located in Bend, Oregon

---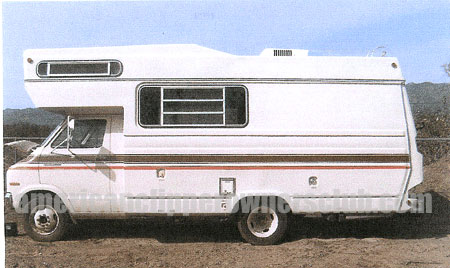 8/30/04
For Sale
1978 American Clipper, 21 foot. Rear Bath. Dodge 360. Over $10,000 invested and about 70% restored, just cosmetics left to do. New radiator, tires, brakes, alarm system, bearings, shocks, water pump (the big racing one), starter, fuel pump, hoses and belts, transmission has been gone through, Onan generator has been gone through, new carburetor, top end rebuilt, tuned up, new u-joints and the list goes on and on. Has awning and AC. 59,000 miles in very good shape, not quite excellent, but very good. Smogged. $5,600
Located in Ukiah, Ca

---
8/22/04
For Sale
1978 American Clipper, 21 foot. Party Model 70,000 miles, Dodge 440. Just smogged. Good Condition. All factory and ACOC Publications. Many Extras.
Located in Woodland, Ca

---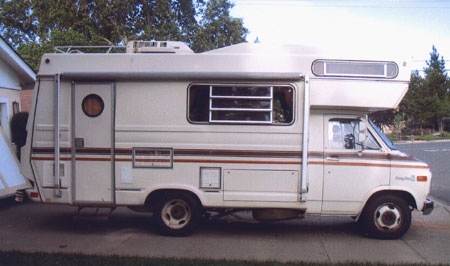 6/16/04
For Sale
1979 American Clipper, 21 foot. Chevy 400 cu. in. motor. Runs good. new front brakes, new alternator, new batteries, new front shocks, new muffler, major tune-up. Needs some TLC. $3750
Located in Napa, Ca

---
5/22/04
For Sale
1976 American Clipper, 21 foot. Sleeps 5 or 6. Rebuilt 440 motor, rebuilt transmission, rebuilt distributor, new carburetor, new muffler system, new radiator, new steering box, new electric fuel pump for generator, new water pump for sink, new awning, air bags, rear storage area, trailer hitch, roof AC, good tires, carpet, TV, heater, rear kitchen and bath with shower, over, four burner stove, refrigerator. Have paperwork for appliances, etc. Looks great inside and out. $6,500
Located in San Jose, Ca

---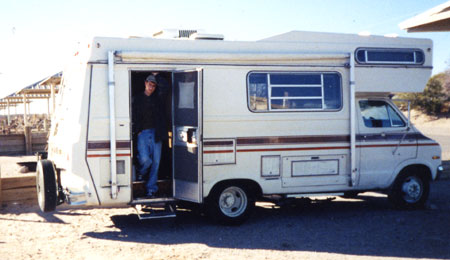 5/12/04
For Sale
1976 American Clipper, 21 foot. Rear kitchen party model with convertible couch/bed, two chairs with table between, i.e. most popular version. 440 Dodge engine, top air, air bag suspension, dash air system completely rebuilt with new compressor. New gas tank, new brakes, new ball joints, new water pump, rebuilt radiator. New house water pump, microwave and sink faucet. Low mileage on tires. Awning shown in picture removed for repair. Onan 4KW Generator with less than 100 hours to replace initial Generac - major improvement. Will deliver from New Mexico for final inspection with a $300 non-refundable deposit. $6,000
Located in Las Cruces, New Mexico

---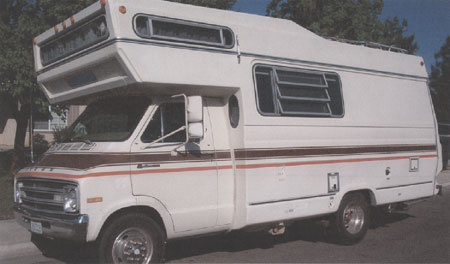 5/12/04
For Sale
1978 American Clipper, 21 foot. 440 Engine, overhauled in 1997. Rear kitchen, Van A/C, fully self contained. New dash air and new vents. $5,500
Located in Hanford, CA

---
Updated 5/12/04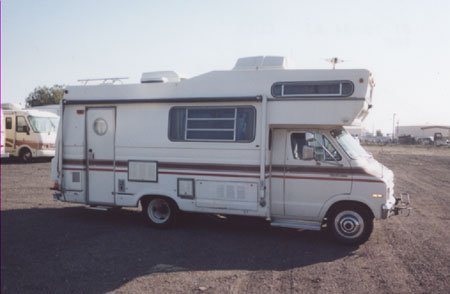 For Sale
1976 American Clipper
21ft rear kitchen. This model is fully equipped with everything needed for the best in camping. 440 Dodge engine with valve job less than 3,000 miles ago. New starter, water pump, distributor cap, rotor, spark plugs, plug wires, battery and voltage regulator. Replaced water heater, dash and roof A/C and heater. California room for awning. 4Kv Onan Generator, special storage cabinet for tools, extra parts, hoses, cords and other spare items. New carpeting and upholstery throughout. Gets good mileage, about 8mpg. No dents or other internal damage. Comes with 3 sleeping bags. A great buy for $5,000 o.b.o.
Located in Hemet, Ca

---
2/28/04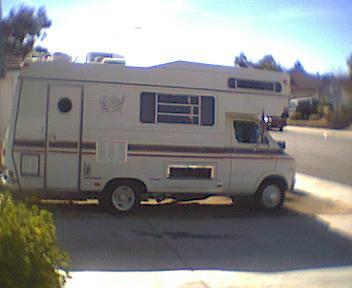 For Sale
'75 American Clipper, 21ft, rear kitchen. 360 Dodge with less than 100,000 original miles; passes smog very well. Onan Gen good cond,tires like new, nice interior,newer toilet, updated vents; rear cargo carrier. $ 4,900 O.B.O.
Located in Las Vegas, NV

---
2/28/04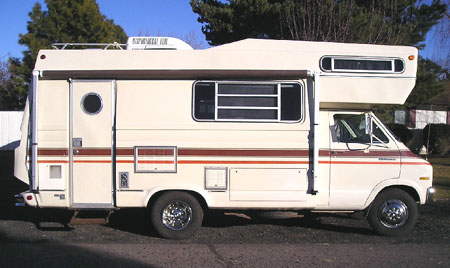 For Sale
1976 American Clipper
21ft rear kitchen, microwave, Sleeps 5-6 comfortably. 440 Dodge engine, 84000 miles, new Carter carburetor. Rear air bag suspension, newer tires, newer upholstery, new carpet through out. Roof air conditioning and awning only two years new ! Custom trailer hitch installed ready to tow your boat or tow car. More pictures available upon request.
Located in Prineville,OR, $7000

---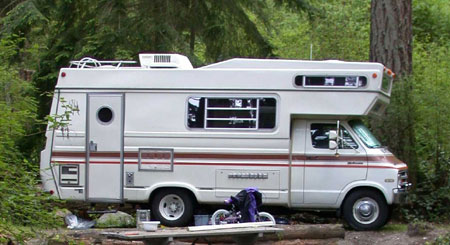 1/13/04
For Sale: 1975 American Clipper 821 F 360, 21 ft, rear kitchen, 123k mi, motor rebuilt at 60k, trans rebuilt in 2000, Onan Emerald I 4.0 gen, new carburetor, new rear air bags, new rear tires, new water pump in engine and house, new hoses, new upholstery & foam in dinette, couch & valances. Runs great. More pictures upon request. $4,000 OBO
Located in Snohomish, WA

---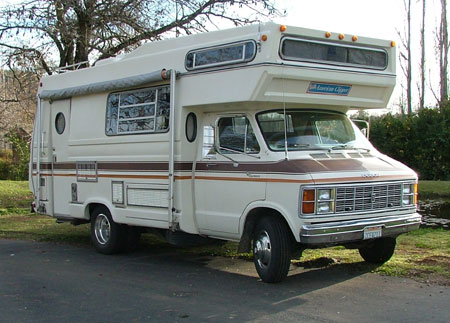 1/6/04
For Sale: 1980 American Clipper 440 Dodge-mileage 87K New/recent features: Tune up and smog certificate, modular ignition, radiator, water pump, hoses, belts, thermostat, electric cooling fan, rebuilt drive shafts, rebuilt transmission, new brakes front and rear-new seals and bearings, 7 new tires, new total exhaust system, solar powered Kyocera 85 watts w/new batteries. Other features include 50 gallon fuel tank, upgraded Dometic refrig with new starter and control module, hardwood floor, catalytic heater, rebuilt cargo area. Upholstery in dinette and couch recovered. Has pull shades. Toilet was replaced, has built in medicine cabinet and clothes hamper. $7500. or best offer. Our new motor home is a condo in Arizona! We expect to be at the Cal Expo RV Park Rally in Sacramento.
Located in Cool, CA

---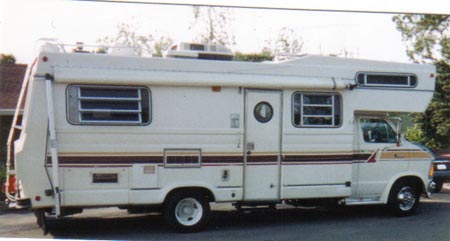 12/6/03
For Sale: 1980 American Clipper 24ft. 440 Dodge, 92,000 miles. Onan Generator, electric step, roof air + heat strip, solar panel. Includes VW Square back tow car. $7,495 o.b.o
Located in El Sobranta, Ca

---
11/9/03
For Sale: 1976 American Clipper, 21' Rear Kitchen, 92,000 miles, Dodge 318. new Roof and Vents. has side awning, roof air and TV antenna. Gas and Electric Fridge. new manifold and exhaust system. All new brakes, new front end and steering box, new air bags, new timing chain and taillights. New tires and 2 new batteries. All ACOC Journals. Selling due to health. 3rd owner. Asking $5,000
Located in Ukiah, Ca

---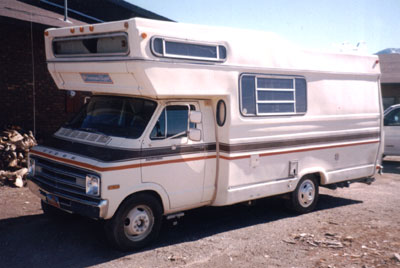 9/28/2003
For Sale: AMERICAN CLIPPER IN GREAT CONDITION. 1978 24 FEET LONG. REAR KITCHEN. AWNING IN GREAT SHAPE. A/C IN THE VAN. SLEEPS 4. 85K. 440 DODGE ENGINE. THE INTERIOR LIKE NEW. NEW TIRES. $6,500 OBO.
Located in Monroe, UT

---
9/28/2003
For Sale: 1978 21' American Clipper. 73,462 miles, Dodge motor. Rear bath and rear bunks. Remodeled interior. Awning. AC. $3,500.00.
Located Canton, GA (north of Atlanta)

---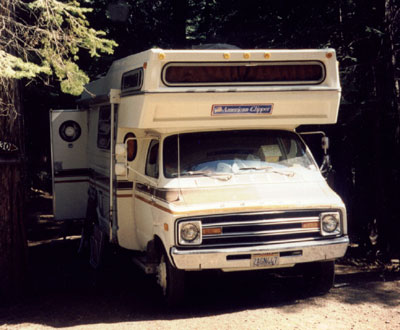 8/12/2003
For Sale:1978 American Clipper 440 dodge 136,000 miles. original owners, have all papers. owners are elderly and not able to drive the coach anymore. inside/outside are in good shape but do need some cosmetics. it has 6 new tires, new toilet, the micro, fridg, stove all in good working order. It has electric sewer valves . It has a full tank of gas (50 gals.) and is ready to go. asking $6,000 o.b.o.
Located in Salinas Ca.

---