Latest Update:
19 Sep 2007
Best Viewed at 800x600 or higher
Copyright® 2004 American Clipper Owners Club. All rights reserved.
American Clippers Sold
---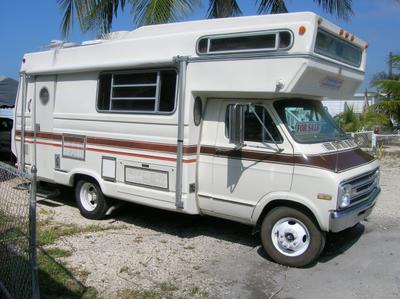 6/25/2007
For Sale
1977 21' with Rear Kitchen and Rebuilt Engine
83,000 miles with only 3,800 mile on rebuilt Dodge 440 automatic transmission with rear airlift suspension (pistons, cam, crankshaft, rings/40 oversized, exhaust manifold). Brand new starter and relay, brakes, brake lines and calipers, mufflers, battery, and rebuilt Holly carburetor. Recent service including oil/filter, gaskets, and transmission. The rig has had two owners, the most recent a retired mechanic. Have all receipts and the original chassis and owners' maintenance manual plus all back issues of the American Clipper Club magazine. Firestone tires in good condition. Overall condition very good for a vehicle of this age and no funky odors/smoking.
But wait! There's more!.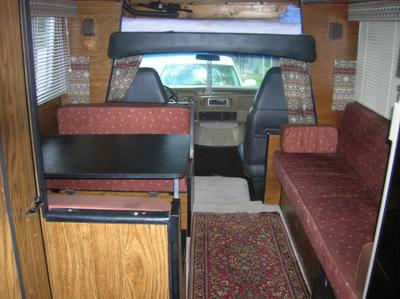 The house/appliance items are virtually new. Includes a brand new $1,000 Dometic single door refrigerator, 4 year old house A/C and overhauled cab A/C, new toilet, new house water pump, new alternating current/propane hot water heater, new micro control board on propane furnace, new electric fuel pump, new bucket seats (very comfy!!), and cab carpet. The mini blinds, drapes and valances are new. There is a custom built wooden ladder for the overhead bunk (the original is hard on bare feet). There is a two year old side awning. The upholstery is in great shape.
Located in Eastern TN at the foot of the beautiful southern Appalachian Mountains. Asking $6,900. Priced for quick sale. Would like to see it go to a vintage RV enthusiast who will appreciate the love and care that has been bestowed upon this rig.
---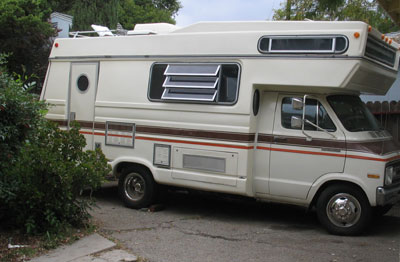 5/29/2007
For Sale
1977 American Clipper 21ft
27,344 actual miles! I bought it last March and it has been in my drive way ever since. It has a 440 motor, automatic trans, rear kitchen, generator. I have all the paperwork from previous owner. It needs current tags and smog. the motor home is the 821FiT model. I'm Asking $3500.00 or best offer. I must sell ASAP.
Sold - 6/2007
---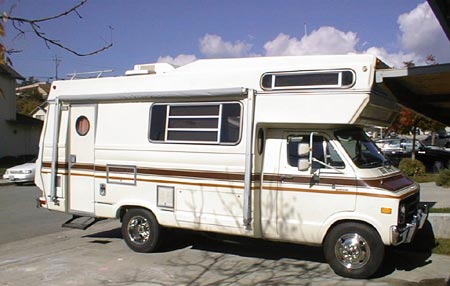 2/23/05
For Sale
1978 American Clipper, 21ft Side Kitchen with couch. Only 25,600 original miles and records of all maintenance since new. Interior is original and still in very good condition. Dodge 440 runs very strong. Will pull Pacheco Pass at 55-60mph. Dual exhaust, 160F thermostat, recent tune-up with new plugs, distributor cap, wires and coil. New alternator. Tires are in great shape. Just installed new Bilstein shocks and had new higher rate front springs installed and an alignment. It tracks straight and is a joy to drive. Onan Microquiet 4kw Generator has about 20 hours on it. Has Awning and Roof A/C. AM/FM/CD installed in living area. Hitch suitable for bike rack or tow car pulling installed, hitch platform tray included along with lots of extra recommended parts and supplies. (ignition module, ballast resistor, etc..). Growing family wants something a little bigger. One of the nicest Clippers around. $8500
SOLD - 3/05
---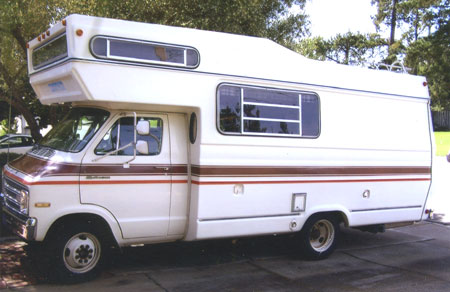 5/12/04
For Sale
1976 American Clipper, 21 foot. Rear kitchen, One Owner, GREAT Condition. 36,000 original miles. Sleeps 5-6. $6,000
Located in San Ramon, CA
Sold - 9/04

---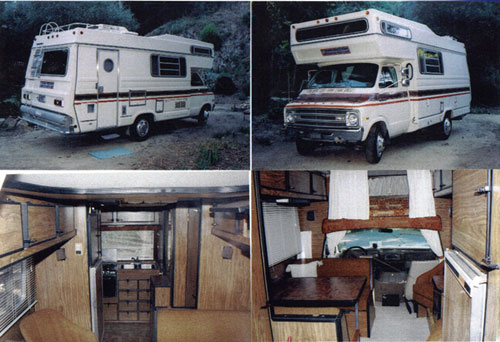 5/12/04 - updated
For Sale
Dodge American Clipper, 1977, 440 eng., rear kitchen, party model. 58k original miles. We just replaced all internal plumbing, carpet, upholstery, mini-blinds, kitchen and bath flooring. Also rebuilt the distributor, and did a major brake overhaul, including master cyl, rear cyl. and front calipers. The Dometic fridge, 4KW Honda generator, microwave, stove, furnace, house A/C, shower & toilet, all work well. Holding tank valves replaced with easy access type. Sleeps 4. Dash A/C non-op. Engine strong, exterior good, tires 2-yr. old. Has AM/FM cassette deck. It's very clean and ready to roll!! $7,200 obo.
Located in Carmel Valley, CA

SOLD - 8/04
---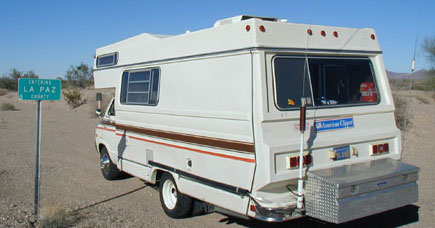 5/12/04
For Sale
1979 American Clipper, 21 foot rear kitchen with side couch, 82,000 miles, Dodge 440, New brakes, fuel pump, water pump, has newer carpet and upholstery, trailer receiver, rear-mount storage box (see photo), awning, onan generator, coach AC. $5,000
Located in Santa Cruz, CA

SOLD - 8/04
---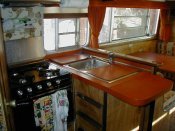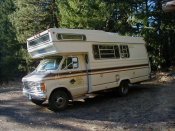 5/12/04
For Sale
1980 21' party model with side kitchen. 440 engine. Suspension beefed up to haul 3-horse trailer, including re-arced, rebuilt leaf springs, new u-bolts and additional leafs added. Rebuilt front end, rebuilt radiator, new carburetor. Engine and transmission have recently been resealed. New exhaust for extra power. Electric fuel pump, 3-receiver trailer hitch, trailer brakes. Onan generator, awning, new tires, chrome wheels. Clean interior, new rugs. 79,000 miles. $5000.
Located in North Central Washington
SOLD - 5/26/04
---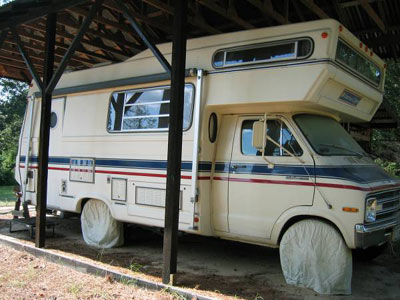 9/28/2003
For Sale: 76 Dodge 440 V8. Recent tune-up with new wires, new carburetor, all new hoses. 30,500 miles. Rear kitchen.
Recently re-decorated with beautiful blue interior including new blue dining booth cushions, chairs, bed covers, and teak table top and floors. New fronts on cabinets doors and drawers. New single-lever kitchen faucet. Outside color is white with red and blue stripes. No dents. In excellent condition, stored under roof. Chrome wheel covers. Awning, new roof vent covers. Generator needs carb work. $8,000.00 - Neg.
Located in Jasper, TX
---
11/9/2003
For Sale: 1978 American Clipper. Model 821SK-FC Party Model. Side Kitchen with dinette and swivel chairs with table. CD Stereo, A&E Awning, roof air, stainless wheel covers, four newer radial tires (3K), great condition, looks good inside and out, has most recommended spares, engine and appliance manuals. Thorley Headers, snoot boot, new starting and house batteries. Right now it won't pass smog, I've come close but I think a new carb might be in order.. $2,500 firm. No offers please.. with a little work and investment you'll have a great motorhome.
Located in Auburn, CA
---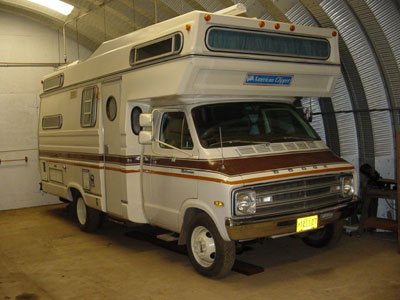 4/1/03
For Sale: 1978 American Clipper, 20 ft, bunkhouse. 440 Dodge, 70k miles, second owner. Well cared for. Pictures on request. $5500
Located in Days Creek, Oregon.

---
3/3/03
For Sale: 1977 21' American Clipper. Model 821-FC Party model, rear kitchen. Swivel Chairs with console and dinette. Chairs and dinette have new upholstery. Remainder is original. new faucet in kitchen. Everything in good working order. Honda Generator EV-4000 w/ remote start. New carburetor, new electric fuel pump, new fuel lines. Dual fuel tanks 36 and 32 gallons. Tinted glass kitchen and over cab. 8 track stereo, Roof and engine air. New tires and brakes. Front tires 8.0 x 16.5, rear 8.75 x 16.5 radials. New larger escape hatch over bed. Other goodies like all back issues of the Journal and original documentation included. 51,000 miles. $8,000
Located in Hanford, CA
---
1/20/03
For Sale: 1977 American Clipper 48,835 Miles. Dodge 440 engine. Mew brakes. New transmission driven only 12,000 miles. Heated and air conditioned cab. Rear kitchen. Separate bat and shower. Model 821F. Exterior and interior in excellent condition. New carpet, built in microwave, cable TV jack. Equipped with basic dishes and utensils. Excellent storage. Gas range, 3 way refrigerator, furnace, generator operated air conditioning in living space. Double bike rack and side awning on exterior. Total sale package includes the American Clipper and a 1990 Geo Metro and tow bar. $5,000
Located in McDonough, GA (25 miles south of Atlanta)
SOLD - 12/03
---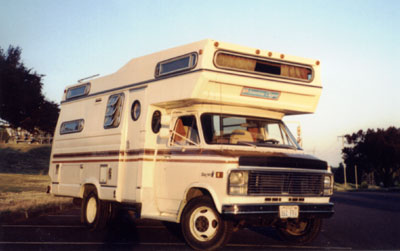 9/28/2003
For Sale:1980 21ft American Clipper - Chevy Chassis w/400 cubic inch engine. Bunkhouse model w/rear bath, tub/shower and side kitchen. Nice rig, could use new curtains. Great family rig for those runs to the beach. 51,500 miles. $7,000
Located in Vancouver, WA

---
8/10/2003
For Sale:1979 American Clipper 21' 440 Engine, Rear Bath with Tub and Shower. 33,600 Original miles. Excellent condition inside and out. New Awning, roof air, rear air-bags, ladder/rack, CB Radio, New water pump. We were the original owners and it has been under cover since new. $5,500
---
5/13/2003
For Sale:1977 American Clipper 21' Rear Kitchen. Very clean inside and out. $5998.
Located in Redmond, OR
---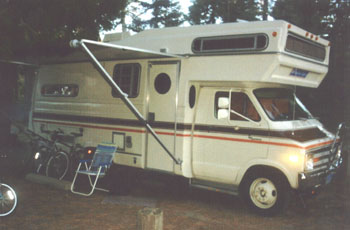 3/16/03
For Sale: 1979 21ft American Clipper Motorhome. Fully self-contained, air conditioner, microwave, forced air furnace & extra catalytic heater. Onan Generator. Sleeps 5 or 6 70,000 miles in excellent condition. $6,200 obo
Located in Dunsmuir, CA

---
2/20/03
For Sale: 1976 American Clipper. Rear kitchen model fully equipped with everything required for the best in camping. Health problems force sale. Clipper is in good shape with 75,000 miles on the Dodge 440 engine. This is not just a basic motorhome, it includes so much of what you may need if you were outfitting the unit from scratch. This sale includes, awning, awning room attachment, rooftop carrier, TV, VCR, microwave, dishes, pot and pans, stainless silverware, coffee maker, electric quick oven, general household gadgets, Onan 4K generator, roof and cab air conditioner, CB, quality dash mounted compass, inside/outside thermometer, altimeter, two mounted bike racks, radio weather monitor, selective three system TV connection, auto latching cabinet doors, built in chest of drawers, double dining table capability, illuminated site gauge for water tank, lawn chairs, green lawn rug, box of tools, spare essential engine accessories, gas BBQ, hand vacuum, sleeping bags, misc. hardware, safety equipment, special storage cabinet, hand books and much much more. All neatly stored and readily accessible. The unit lacks nothing for comfort. Will sell for $6,000
Located in San Diego, CA
---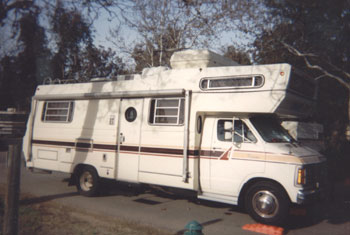 2/20/03
For Sale: 24' American Clipper. Rare find! Dodge 440. 20K miles on total overhaul. 3K miles on new transmission, new springs, 85 gallon fuel capacity, front and rear hitch receivers, reinforced rear frame. Extra long awning, right side window awning, electric levelers, generator, microwave, extra large refrigerator, porcelain toilet, new interior upholstery and flooring, electric step, roof storage pods, CB Radio, custom pantry, 3/4 bed in rear with storage underneath, queen size overhead bed, new dinette, swivel captains chairs in cab.
Located in El Segundo, CA
---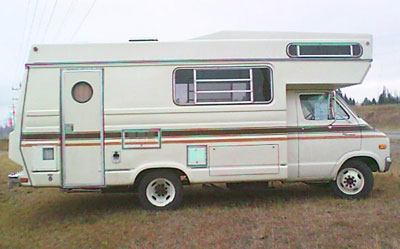 4/2/2003
For Sale:1978 American Clipper, Rear kitchen, Dinette, Couch, 3rd owner, original
documents. 72K miles, 440 Dodge Engine, Rebuilt Carburetor, heads redone for unleaded gasoline, with hardened valve seats, new valves, new guides, new seals, new
retainers. New water pump, four core radiator, timing chain, Edelbrock Performer aluminum intake manifold, plugs, wires, etc. New Shocks, brakes front & rear, 3" exhaust system and mufflers. Double groove pulley on power steering. New weather stripping on cab doors (yes it is still available), two deep cycle golf cart batteries for house. Rear air bags with new reinforced frame/trailer hitch for towing boat or horse
trailer, AM/FM Cassette, CB Radio. Cab Seats redone. Frig, furnace, water heater, cab air, etc. all work great. Ready to go. $6,500

Located in NW Montana.
SOLD - 6/03
---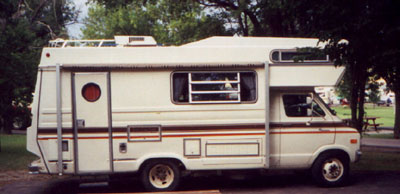 4/1/03
For Sale: 1979 American Clipper Side Kitchen Dodge 440 engine. 70,000 original miles. 4,000 watt Onan generator. New radiator, 6 new tires, awning, air suspension, hitch. Swivel chairs with console and dinette. Original upholstery. Microwave. Non-smoker, no pets. This was a great "starter" RV for us. Our family has simply outgrown it. Asking $4,500 OBO.
Located in White Lake, South Dakota
SOLD - 6/8/03
---
12/3/2002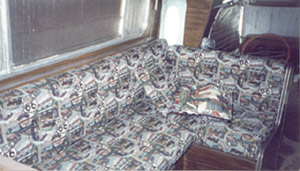 For Sale:1978 American Clipper 21' Party Model. 440 Dodge, P/S, P/B, A/C, 82K miles. Roof A/C, 4Kw Onan Generator, Microwave, Awning, CB Radio, Ride-Rite Air Bags. Interior redone with 2-way blinds, all new foam cushions with heavy Route 66 fabric including the swivel chairs. Many new parts including: Tires, ladder, escape hatch, tail lights, carburetor, timing chain, water pump, alternator, A/C Compressor, fan clutch, double pulley on power steering pump, double belts and all hoses. $6,500 OBO Tow dolly available for $500.
Located in Tempe, AZ
SOLD - 2/24/03
---
1/10/03
FOR SALE: 1976 REAR KITCHEN, 440 DODGE, 95000 MILES (LOTS OF WORK DONE TO ENGINE AND TRANS), NEW BATTERIES, NEW CARPET, NEW BLACK WATER TANK AND ALL PLUMBING, PARTY MODEL WITH 2 SOFA SLEEPERS, AM/FM/CD w/6 SPEAKERS, GENERATOR, AWNING, ROOF A/C, NEW FRONT TIRES, DASH AIR DOESN'T WORK (ALL THERE JUST NEEDS TLC)
LARGER FAMILY AND PURCHASE OF LARGER COACH FORCES SALE. ASKING $4700.00/OBO
LOCATED IN MURRIETA, CA (RIVERSIDE COUNTY)
SOLD - 2/22/03
---
12/30/02
FOR SALE: ''79 Dodge American Clipper. Original owner. 29,200 miles. 440 Engine. Model 821F Rear kitchen. Roof air 13500 BTU. 2 Trailer hitches. New window bonnet. 4 new wheel covers. Catalytic heater. Cab heater/air. Original books for R.V. owners technical guides. Dodge truck service directory. and operation& maintenance instructions. $7,500
Located in Seaside, CA
SOLD - 2/14/03
---
9/20/2002
For Sale: 21' 440 V-8, rear kitchen, new tires, recent brakes, trailer hitch, awning, Onan 4kw generator, roof air and converted dash air. This American Clipper has less than 52,000 miles nd runs well. It has an exhaust tick and shows some wear but is in good overall condition. Asking $4,500 and can deliver it within 200 miles.
Located in Sandy Hook, CT
SOLD - 11/9/02
---
8/21/02
For Sale: 1977 American Clipper 21', Rear Kitchen party model 821F. A real classic. 42,000 original miles. Nine months of restoration. All amenities including sixty upgrades & improvements. Ready to go - anytime, anywhere - All she needs is you. $9,800 O.B.O. Complete list and pictures available.
Located in Petaluma, CA
Tow car also available.
SOLD - 9/02
---
8/31/02
For Sale: 1979 American Clipper. Side Kitchen, Bunk model (reworked to storage closet) 440 Dodge, 41,000 miles, only 6,000 since rebuild. Windshield 'snootboot'. Brand new Suburban Water Heater, Commercial Carpet. New foam dinette cushions w/brown & gold upholstery. Recent insulative window curtains for kitchen & dinette. Good tires and under chassis spare. AM/FM Radio, Tape deck, CD Player. TV Cable ready & on board antenna. Brown stripe & all metal w/ new paint. A&E dinette awning. Roof AC and Cab air. Trailer Hitch. All back copies of ACOC Newsletters. $5,000 o.b.o.
Located in Sutherlin, Oregon
SOLD - 10/14/02
---
7/22/02
For Sale: 1977 Rear Kitchen, fold-down couch, dinette, A/C, Onan Generator. Have all new upholstery materials, original still in good condition, I just don't like the colors. Has all new tires, new brakes, new awning. 42,000 original miles! $6,500
Located in Boise, Idaho
SOLD - 8/13/02
---
6/30/02
For Sale: 1978 Model 821F Rear Kitchen, Party Model, 76K miles, Power train great: new carb last year, new exhaust system, just tuned and smogged. New upholstery and carpet, new fresh water tank and gauges. AC and gas furnace need work but all other systems are in superior condition. Clean inside and out. $3000.
Located in Vacaville CA.
SOLD - 7/14
---
6/13/02
For Sale: 1976 440 engine, party model, rear kitchen, excellent running condition. Minor interior work needed, upholstery and carpet NOT original. Less than 60K miles. Priced to sell: $3,000.00
Located in Chico, California
SOLD - 6/02
---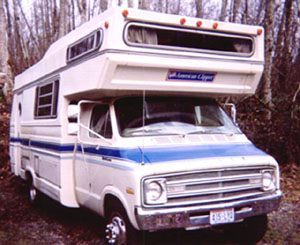 2/04/02
For Sale:1976 Clipper, 21 ft., rear kitchen with dinette and 2 club chairs. Only 55,000 miles, very strong Dodge 440, new carb - gets 10 mpg. Excellent condition in & out. New generator has never been used. Also microwave & TV/VCR combo. New chrome wheel covers & two-tone blue striping. $6,000. Selling because we have 2 motor homes.
Located in Bellingham, WA

SOLD - 6/9/02
---
4/24/02
For Sale - 1978 American Clipper, 22 foot, 440 Dodge engine, a/c, 68k miles, 55 gallon gas tank, tow hitch. Rear kitchen, dinette and fold out couch. Rebuilt carb and engine with unleaded heads. New 4-row radiator, coolant hoses, water pump, timing chain, front brakes, muffler, tires, shocks and many others. Runs cool and reliable. Would love to keep it forever, but the boss wants a bigger RV. $5950 or best offer.
Located in Glendora , Ca.
SOLD - 5/22/02
---
11/8/01
For Sale: 1977 American Clipper, Dodge 440 Engine. Runs very well, must see to appreciate. Asking $5,500
Located in San Jose, Ca.
SOLD - 5/9/02
---
3/14/02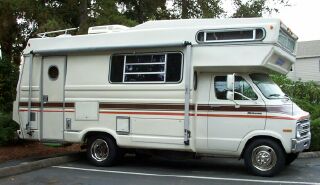 For Sale: Move to Australia forces sale! 1978 American Clipper, 21 ft. Very well taken care of. Original, mint condition with low miles (29,800 miles). Dodge 440 engine. Stored inside. All records maintained. Recently given a clean bill of health by certified motor home mechanic. Newly installed voltage regulator, battery, alternator, carburetor & radial tires. Classic 1970's interior with shag carpeting and rust-brown & gold plaid upholstery (not to mention an 8-track tape player & CB radio!). Beautiful! Full shower & bathroom. Full kitchen. Asking $7,995.
Located in Tucson, AZ.
SOLD - 5/3/02
---
4/04/02
For Sale:1978 American Clipper 21' Fiberglass, Dodge 440 Engine, PS, PB, CC, dash air, roof air, roof racks, runs perfect. 71,900 miles. Appliances recently serviced, storage galore, dry bath, sleeps 6, looks real sharp. You'll be proud and comfortable. $7495
Located in Scio, Or.
SOLD - 4/30/02
---
4/4/02
For Sale: 1977 Dodge 440 Rear kitchen model. See it to believe it! Cocktail table, barrel chairs and "L" Shaped couch with dinette table. Original owner/25,000 miles. Cab and Roof Air. 440CID Engine with new Edelbrock Carb and electric fuel pump. Interior furnishings completely and professionally redone. Awning, 110/propane water heater, whisper quiet water pump, microwave, S.S. Wheel Covers, Custom shower door, amplified TV antenna, Class II trailer hitch, custom etched safety glass port holes, plus much more. Excellent condition and extremely reliable. Service and Maint. records available $8900
Stowmaster hitchbar and safe towing brake system available for $500
Located in Jackson, Ca
SOLD - 4/10/02
---
For Sale: 1975 American Clipper 21' , very good shape, 360 Dodge, 8 Cylinders, 115 000 miles , Onan Generator, Kitchen double sink , Self contained combination toilet/shower & bathroom sink. Price: $6,000.00
Located in Los Angeles, California
SOLD - 4/02
---
For Sale: 1976 American Clipper, 21', party model (rear kitchen). 100k miles. New radial tires. Good interior. $6k OBO.
Located in Castro Valley, California
SOLD - 3/02
---
12/12/01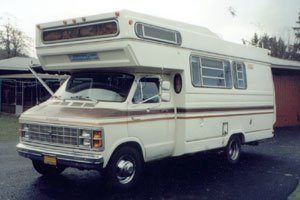 For Sale: 1979 American Clipper Side Kitchen, 21' - Dodge 440 with just over 57,000 miles. Roof and Cab Air, new Cooper tires all around. New fuel lines, hoses and fuel pump. Awning is like new. Onan 4.0 generator and CB Radio. Chrome wheels. New carpet and very good upholstery. Sleeps 6. This rig is in excellent condition and runs great. No longer able to travel, must sell. $8,500 o.b.o
Located in Grants Pass, OR
SOLD - 3/02
---
1/9/02

For Sale: 1980 American Clipper 21', Chevy 400 Engine, auto-trans, tow-hitch and electrical. Awning, self-contained. Rear Kitchen model. Well cared for. 57,000 original miles. Runs great. Ready to go. $3,995.00.
Located in Roseburg, Oregon
SOLD - 1/20/2002
---
For Sale: 1978 American Clipper, 21ft., rear kitchen, good roof ac, 3way ref, 4burner stove w/oven, microwave, color tv, awning, toilet w/shower, double sinks, gas furnace, pb, ps, cruise.440 Chrysler with Jacobs ignition, headers, dual exhaust, Edelbrock, generator, good tires, good brakes, good interior,128k mi. and ready to go. $4100.00 St. Pete Beach, FL 33736
SOLD - 12/3/2001
---
For Sale: 1979 American Clipper, Chevy 400, 27K miles.
Side Kitchen,
Rear Shower/Tub
New RV Water pump
Vents with large fans
New refrigerator/ freezer
New electric fuel pump

Microwave
CB
Original Owners
Chevy owners manual
Passed smog test
Price: $7,500.00
Located in Auburn, California.
SOLD 9/2001
---
For Sale: 1977 American Clipper, 21ft, Side Kitchen.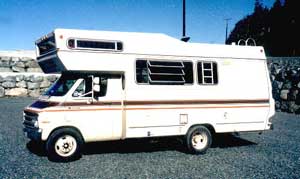 Model #821 SK-FC with 84,000 Miles on Dodge 440 c.i.
Very clean, well maintained, original interior, with new A&E awning
Class IV hitch receiver c/w HD casters
New grille & Boss halogen headlamps
Brakes, front end, xmns serviced & complete tune up
New Flowmaster exhaust
3 New RV batteries & new starting battery c/w solar charger
New Sony AM/FM receiver w/ cassette recorder c/w Teac speakers in coach
New foam mattress in cab over bed
Insulated to minus 5 degrees C (25 degrees F)
Asking $10,000 CDN ($6,750 US)
Located in British Columbia, Canada
SOLD 9/2001
---
For Sale: 1976 American Clipper, 21 ft., Dodge 440. Original owner, original condition, stored inside, low mileage 29,800, CB radio, new radial tires, air bags on rear. Original upholstery in excellent condition. Price: $13,000.00
Located in San Jose, California
SOLD
---
For Sale: 1976 821 FC (Party Model) Purchased in Maine in 1997 from retired Arizona couple (ACOC member) who drove it to Nova Scotia and Maine. I used it for weekend trips (500 to 600 miles total). Family health problems has made it impractical to continue. Mainer's are not familiar with the history of and thus can't appreciate the features and value of the "American Clipper" and I am tired of trying to sell it. Before I donate it for a tax write off, thought I'd try the ACOC Web.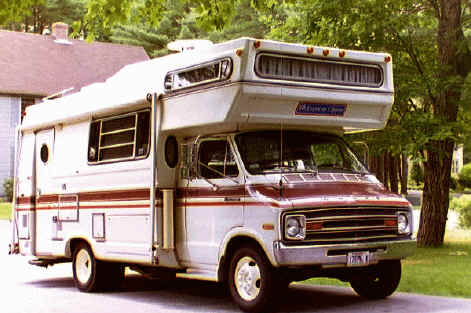 Mileage: 42,500 Dodge 440 Engine strong

Interior reconditioned in 97 Blue Corduroy, new blinds, rug.

Built-in Hamper (or bar)

Exterior truck type steel storage bin

Awning

Set of ACOC newsletters.

Needs a little TLC on accessories (about a $1000) to put in full working condition
Located in Kennebunk, Maine.
SOLD
---
For Sale: 1977 American Clipper. Runs good and looks great on inside and outside and is in fairly good shape. Cabin air, Refrigerator, and hot water heater work. Uses some oil and needs minor work.
Cab-air needs new control
Awning needs a new part on one arm
Needs a new cab carpet mat
Needs a new valve on holding tank
Located in Baton Rouge, Louisiana
SOLD
---
For Sale: 1978 American Clipper
Dodge 440 model SK-FCIT, 60K miles,
Awning, Ride Rite air bags, front window bonnet.
Updated carpeting, couch covers and window coverings.
New foam on bed. Wired for TV/Radio & VCR.
New AM/FM/tape radio in dash.
Very clean, low mileage tires.
Price: $7050.00.
Located in East Wenatchee, WA
SOLD
---
For Sale: 1976 American Clipper, 21 ft. Rear Kitchen w/sofa & dinette, 440 Dodge engine w/ 69,000 original miles
13,000 miles on rebuilt engine
10,000 miles on rebuilt transmission w/ HD torque converter
8:75 x 16.5 Bridgestone Tires w/spare
All original except new carpet and window blinds
New roof air conditioner - 1 year
New awning on right & one over window on left
Lots & lots of new stuff - too much to list here.
Has been owned by non-smokers!
Call or write for photos & complete list of details. This coach is in excellent condition inside & outside!!!
Ready to go anywhere. Does not have, and never has had, an overheating problem. Price: $8,500.00
Located in Bakersfield, California
SOLD
---
For Sale: 1978 American Clipper, 21 ft., 63,500 miles
Price: $7,500.00
Location: Oakdale, California
SOLD
---
For Sale: 1977 American Clipper, DODGE 440, 21' Model 821FC (rear kitchen & bath, two chairs face dinette).
Microwave.
All new upholstery in living area and new foam bed.
AM-FM stereo/tape deck w/ speakers added.
Wired for cable TV. Cab & roof AC, new toilet.
Good condition radial tires.

Recent tune-up and new HD shocks.
Exceptionally clean, lots of TLC.
Low 62K miles.
New License tabs 3/022, clean emission test.
Price: $7,995.00 OBO.
Located in Marysville, Washington.
SOLD
---
For Sale: 1978 American Clipper: 21' 821FC1T (party model) rear kitchen, 2 A/Cs, folding couch with portable table, two bucket seats, 57k miles.
New or improved items:
EXTERIOR: Six tires, complete front end, drive shaft balanced, rear bearings/seals, brakes, starter, batteries, generator, water pump, heavy duty clutched fan, rear frame reinforced for towing, Onan generator tuned and new carburetor, truck style mirrors with half rounds, awnings, stainless steel grill and wheel covers,
INTERIOR: New front seats, new carpeting, upholstery, valances, and day/night shades (everything Southwestern decor); built in microwave, CB, 12 disc AM/FM stereo system with exterior speakers, wired for cable, passenger reading lights, carpeting protective cover in upholstery material, water pump with filter system.
ALSO AVAILABLE: A) rear mounted storage rack that fits into 2" tow unit with American Clipper tail lights. B) bike rack that fits on front of rig, holds two bikes.
Asking price: $7,000
Located in San Jose, California
SOLD
---
For Sale: 1977 American, 21 ft., Rear Kitchen, Completely re-upholstered in Blue, Cream and White and Berber Carpet.
Two New Batteries
New Water Pump,
New Shocks
New Black Water Tank
2 Gas Tanks
440 Dodge Engine
Thorley Headers
Runs Strong
Price: $6,500 or b/o
Located in Barstow, California
SOLD
---
For Sale: 1976 American Clipper, 21ft, Dodge 440, rear Kitchen model, 29,000 Miles on rebuilt engine.
2000 miles on Michelin 875R 165 XPS tires

Wheel Covers

Always Maintained

Air bags on rear

Exterior and original upholstery in very good condition

No generator

No roof air

Everything works

2nd Owner
Price: $6,250.00
Located in Martinez, California
SOLD
---
For Sale: 1979 American Clipper, Bunk House model:
Dodge 440
Awning
Roof/Cab Air
Re-carpeted
Reupholstered
Hitch Mount Bike Rack
4Kw Onan Generator
Airbag Suspension
New Toilet
Refrigerator Vent Aux
Cooling Fan

Microwave
CB Radio
Catalytic Heater
Reinforced Rear End
Tow Hitch 2" Ball
Rear Mounted Spare
New Chassis and Coach Battery
Power Boost TV Antenna
Carbon Monoxide Detector
Rear Vent Cover
Price $8,500
Located in Redding, California
SOLD
---
For Sale: 1977 American Clipper, 21'

Rear kitchen
Floor plan #821F.
Dodge 440, 52484 miles
new valves with hardened seats for unleaded fuel.
Price: $6000 OBO.

Located in Red Bluff, California.
SOLD
---
For Sale: 1978 American Clipper, Chevy 400, 45k miles, Rear Kitchen, Dinette w/ 2 convertible couches
821FIT Floor Plan
Roof & Cab AC
Central Forced Air Gas Heating
Trailer Hitch Front & Rear
A&E Awning
Amplified TV Antenna
All Instruction Books
Original Interior except couches
Couches Recently Re-upholstered
Both Couches Fold Into Beds (twins)
Cab-over Queen Size Bed

New Sure flow water pump
Rear Air Bags
3kw Built in Generator
Built in Microwave oven
2 way Dometic Refrigerator
Rear Mounted Spare
3 New Batteries
New Brake Master Cylinder
5k Miles on Transmission
6k Miles on Rear End
Runs Very Strong
Price: $4900 for quick sale. Wife's car just got totaled and this isn't good for daily to-from work.
Located in NW Phoenix, Arizona.
SOLD
---
For Sale
1979 American Clipper, Dodge 440, 51 k miles, Rear Kitchen, Dinette & Couch
New Super Quiet Sure flow Water Pump
Carbon Monoxide Detector
All Original Interior Except Carpeting
Carpeting 26 oz Commercial Grade
Removable Work Space Extension
Stove Top Cover of Matching Formica
Excellent Condition Overall
Dodge Shop Manual
All Appliance Manuals
All American Clipper News Letters
Interior Pictures Available By Mail.
Asking $ 7500 OBO
Located in Orangevale, California
(20 Miles East of Sacramento)
SOLD
---
For Sale: 1978 Clipper - Island Table Bunk House model.
Bunk area is now wardrobe and dresser.
Wardrobe is now a pantry.
53K original miles.
Crank directional TV antenna.
Awning.

Hitch.
CB.
New radial tires.
New batteries.
New alternator.
Price reduced for Quick Sale to $4,500.00 / OBO

Located in Cerritos, California
SOLD
---
For Sale: 1978 one owner American Clipper. 38,300 original miles.




Dodge 440 engine
Rear bath with tub/shower
4Kw Onan generator

Pantry and microwave
Sleeps 6
Used on short trips through out Colorado until recent move. Good condition: $7,500.
Located Melbourne, Florida
SOLD
---
For Sale: 1978 American Clipper
Dodge 440
Model 821 Rear Kitchen
66,000 Original Miles
Roof Air
Generator
Awning
Power Boost TV Antennae

Airbags
Rear Storage Box
Trailer Hitch
Hot Rod in Water Heater
Non Smoker No Pets
GOOD CONDITION

Location: Long Beach, California
SOLD
---
For Sale: 1977 Dodge 440, Rear kitchen Model
Onan generator with approx. 60 hrs.
New roof vents
New front rotors and discs
new shocks all around (were $1,600)
Rear brakes 60%
New dump valves
Driver's seat just recovered
Microwave oven
Crank directional TV antenna
Stove/oven have never been used
6 brand new tires

Large work counter opposite fridge
plastic drawers with Dutch doors in closet
Transmission just overhauled $950
3-core radiator
Steering box seals just replaced
New brain on firewall
Sunscreen on windows in cabover
New floor in bathroom
New power steering pump
Price: $6,900.
Located in Livingston, Texas
SOLD
---
For Sale: 1979 AMERICAN CLIPPER, 21', Rear bath/side kitchen/sofa. 440 Dodge rebuilt engine w/under 10,000 miles. New transmission. New stove/oven, upholstery & 4 new tires. Onan generator, large refrigerator, forced-air heat, cabin a/c, full bath in rear, sleeps 6. Awning with screen room & side window awning. Great shape, excellent running condition. Used regularly and reliably, well cared-for. We just need a larger one!
SOLD
---
For Sale: 1978 American Clipper, 17,700 Original Miles (!)
Dodge 440 Engine
Shower / Tub Rear bath
Awning
Roof Air
Good Condition
New Battery
Custom made Snoot Boot Tire Covers

Side Kitchen
Bench Seat & Dinette
Air Bags
Clean
C.B. Radio
Passed Smog test 9/5/2000
Price: $8,000
SOLD
---
8/08/00
For Sale: 1977 American Clipper, 21', Model: 821FCIT. Rebuilt 440, .030" over, D. Thorly Headers, Jacobs Ignition, 3K Miles on Motor, 70 Gallon gas tank, Generator, Roof/Dash AC, Flow Kooler Engine Water pump. (The doghouse doesn't leak hot air since I bent the floor up to close the gap.) Smogged May 2000, Licensed to August 2001, Compressor for Air Rides with gauge. Microwave, Rear kitchen, Electric "Hot Rod" added to water heater. Interior upholstered in gray tweed. 1976 Dodge Owners manual, Full set of Clipper Journal Newsletters. Illness forces sale. Price $6900 - OBO
SOLD
---
6/27/00
For Sale: 1976 American Clipper

Dodge 440 Engine, 49,700 miles
Both engine and interior are in good condition.
New battery, Rear brakes, good Tires.
Has an add on air conditioner in the storage box.
New AM/FM tape player
Clean inside interior still original
Rear Kitchen/ Rear Shower.
Has two "captain" chairs instead of sofa.

SOLD
---
6/11/00
For Sale: We have downsized and are selling our 1978 American Clipper with a lot of memories. This is a 1978, side kitchen/rear bath motorhome with the fold out couch and dinette. The Dodge 440 engine was rebuilt in 1997 along with a new set of radial tires. Approximately 7000 put on since. Located in Benicia, California. Price $4999 or b/o.
SOLD
---
/3/00
For Sale: 1978 American Clipper, Dodge 440, 21 ft, Rear Kitchen, Very good condition, 60K Miles. $7,000 or b/o
SOLD
---
5/16/00
For Sale: Our camping days are over, just back from last trip to Yosemite. 1976 American Clipper, 21ft, Dodge 440, 50,000 miles, always maintained, new tires, dual exhaust, upgraded larger radiator, rear kitchen. Price: $6,000.
SOLD
---
5/1/00
For Sale: 1980 21-FT Clipper
Clipper has 30,000 original miles with side kitchen, couch bed, full bath, 7 new tires, A/C, Chevy 400 Engine and rear air bags. Very Good Condition: $9,500.00
SOLD
---
2/25/00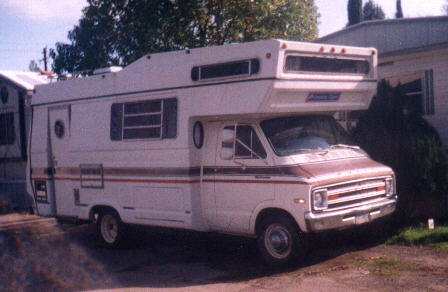 SOLD
For Sale:
We would like to sell our American Clipper regretfully so. It is a 1975-1976, rear kitchen motor home with a Dodge 440 engine approx. 100K miles. It needs only a little TLC and runs great.

---
2/17/00
For Sale: 1978 American Clipper, 21ft. Dodge 440 (engine rebuilt and bored to 460) 2000 miles. New tires, new batteries, alternator, regulator, fuel pumps (front and rear), A/C front and roof, stereo w/ tape, new front seats, tow package, full bath, complete new interior, awning, microwave in kitchen -- Really a deal. $9,000.

SOLD
---
3/14/00
For Sale: 1980 Dodge 440, 21 foot American Clipper with 57,000 miles. Rear Kitchen with fold-out couch and dinette. Immaculate interior. Cab and roof air. Four brand new tires. $7200.00 without or $7950.00 with Onan 4KW generator.
SOLD
---
6/22/00
For Sale: 1979 AMERICAN CLIPPER Model 820F (side kitchen/rear bath/sofa)
Excellent Interior/All fiberglass Exterior.
Receipts for all work done since new 2/79
New (not rebuilt) Chevy 350 engine 1994
Dual range transmission new 1994
Dynatrail furnace new 1994
210 hours on Onan generator 3000kw
13,500 btu roof air & cab air
4 burner stove, oven, kitchen like new
Full bath, all fiberglass stall shower/tub
Hitch, 12' Capri Awning, Storage, Sleeps 6.
Price: $7,995.00 OBO
Sold: 9/23/00
SOLD
---
6/8/00
For Sale: Due to illness: 1978 American Clipper, 21 ft., Dodge 440, rear kitchen, 67K original Miles, awning, handicap equipment, located in El Paso, Texas.
Rebuild carburetor and new dump valves in ' 96
Completely new front breaks in ' 98 (incl. discs)
Rebuild transmission in ' 98 ($2100)
New radiator, alternator, propane tank and 4 tires in ' 99
New fan clutch, power steering main cylinder, coach battery and water pump in' 00
Some seat covers need to be reupholstered
Price: $6000
Sold: 9/27/00
SOLD
---